Advanced Battery Management System (Related to EVFuture)
We have developed an advanced Battery management system (BMS) that will plug into any standard controller. It has a 128x64 pixel graphic LCD display and shows and monitors battery state. The prototype in the picture detects speed automatically from the hall sensors of the motor and the wheel diameter. It monitors current, voltage and distance travelled. A trip counter button lets you reset the trip counter so you can easily track distance between charges. Another button, the Mode button, lets you switch between 4 different driving modes. Full mode lets you drive at maximum power, where the controller you use is the limit. 20A mode limits current to twenty amps, making riding still enjoyable but with somewhat less pickup. 10A mode limits power to 10 Amps, making the bike slow but steady. This is the ideal mode for economy driving, and goes about 25 km/h. A 25k/h mode limits the speed to 25 km/h but does not affect power.
Another feature of this BMS is an external temperature sensor that connects to the controller casing. Monitoring of this lets the BMS switch off or reduce power based on the heat of the controller, making it more difficult to blow the electronics.
We are developing this into a product which we hope to sell on the indian market and abroad. Interested parties should contact us for more details.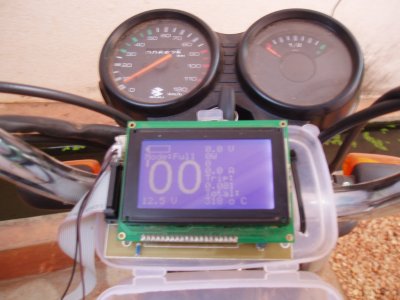 EVFuture BMS Display