Ampere V60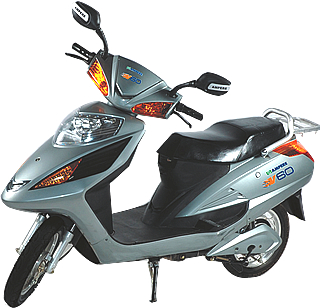 Manufactured by Ampere Vehicles
User Rating:







Score: 4 (3 votes)
Category: Electric Scooter


Description
This electric scooter is imported or manufactured by Ampere Vehicles. It has a autonomy of approximately 55 km on a single charge and a top speed of 25 km/h.
No registration or license is required to drive this vehicle.
ARAI Certification was attained for this product.
Like this product? Tell everyone:
Specifications
| | |
| --- | --- |
| Range/Autonomy: | 55 km |
| Top Speed: | 25 km/h |
| Weight: | 100 kg, +100kg paylo |
| Motor: | BLDC 250W |
| Wattage: | 250W |
| Batteries: | 60V, 20AH |
| Voltage: | 48V |
| Charge Time: | 6-8 hours |
Contact Details
User Comments
Hello, i am an owner of ampere V60, residing in Fort Kochi,Kerala,India and i have been using this scooter for over 3 years now. At first the company had placed the original battery with some other kind of fake battery which was a total waste. Then they changed it after weeks of arguing. Now i have changed the battery again. Yes , it did run properly for 3 years. At the moment, i need a back wheel, the motor, cause mine is making alot of noise while riding. The showroom here, near vytilla has closed down. Kindly look into this situation.
Where are the spare parts of Hercules HI VOLT e bicycle

Where are the spare parts of Hercules HI VOLT e bycycle

service not good in calicut
where its spare parts?

service not good in calicut
where its spare parts?

Please call or Visit our Showrrom in Ulsoor, Osborne Road, Opp. Ulsoor Lake, Next to Tamil Sangam for Ampere Vehicles. Contact me - 9916361104
NOW AMPERE V60 MODE ALSO AVAILABLE IN NORTH KARNATAKA (RAICHUR ,BELLARY, GULBARGA & YADGIR ).
As i'm new dealer in Raichur of Ampere Electric scooters like the Ampere V-60 already gain popularity in Bangalore & south India due
to its excellent performance in electrical vehicle,planning to cover north Karnataka want to provide the excellent service.Please feel free to contact us.
AR enterprises
+91 9738272733
+91 8904658183
Hi,
I am dealer ((in INDIRANAGAR and JAYNAGAR), of Ampere Electric scooters like the Ampere V-60 which is gaining popularity in Bangalore due to its performance in EV segment.Please feel free to contact me regarding any information
SENTHIL KUMAR
SRI SAI MOTORS
9741012328/91640590000


Dear Sir/Madam

We are interested in purchasing your product.
Please kindly send me your latest catalog. Also, inform me about the
Minimum Order Quantity, Delivery time or FOB, and payment terms
warranty.

Your early reply is highly appreciated.

Thank You !
Best Regards,
Valintine Murphy
(Purchasing Manager)
Email vallenciacompany1@gmail.com
As of 15-9-12 the price of V60 the most successful Ev from ampere india is Rs 49000.inc of tax.price is negotiable.Call ecolane motors for unbelievable discounts.
price not taged or mentioned.
I am a dealer in rajarajeshwari nagar bangalore.For any information regarding any ampere two wheelers contact me @ 9739154726. or via email ecolanemotors@gmail.com for Demo visit our showroom.