myEbike Sporty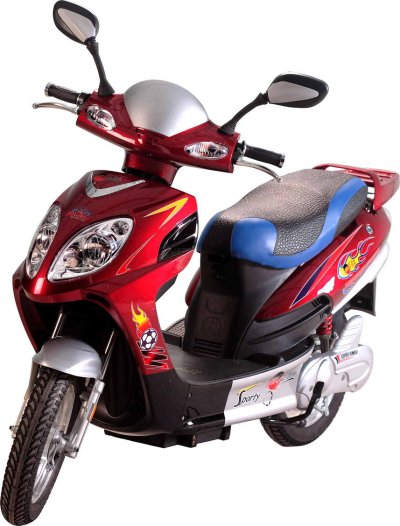 Manufactured by Paradise Electro Auto
User Rating:







Score: 4.4 (10 votes)
Price: Rs. 28,000

Category: Electric Scooter


Description
This electric scooter is imported or manufactured by Paradise Electro Auto. It has a autonomy of approximately 100 km/charge on a single charge and a top speed of 25 Kms / hr.
No registration or license is required to drive this vehicle.
(From the manufacturer:)

next generation E-Bike…..
MY E-BIKE is designed for Indian road conditions, environment and Indian people. Above common e-bike features like economic, environment friendly, low maintenance, safe ride; MY E-BIKE is the biggest in Size with comfortable oversized seat and loading capacity of 150 kg gives a powerful ride that's easy to handle. Along with high power 48 V 24 Ah battery gives mileage above 100 km ride per charge makes MY E-BIKE the perfect e-bike for mega and medium size cities. MY E-BIKE models have most popular auto color, rich stylish design, electrical enhancements like multi-reflector headlights, tail light and rear reflectors, Telescopic front suspension, Heavy duty Chassis and broad tyres makes for a quiet ride.
MY E-BIKE is a state of art e-bike which have unmatched technical specifications and most suitable for Indian people city transportation need. Its best suitable for High school and college students, House wives and working women, senior citizens, Courier – postmen, Delivery men, Field and service engineers, Marketing salesmen, Office boy etc. Like this product? Tell everyone:
Specifications
| | |
| --- | --- |
| Range/Autonomy: | 100 km/charge |
| Top Speed: | 25 Kms / hr |
| Weight: | 78 kg, 120kg payload |
| Motor: | 48 Volt, DC Motor |
| Wattage: | < 250 W |
| Batteries: | 4 x 12V, 24AH Sealed Lead Acid Maintenance Free Battery |
| Voltage: | 48 V |
| Charger: | 56V - 2.8A |
| Charge Time: | 6-8 hours |
| Brakes: | Front & Rear Drum |
| Wheels: | 16" x 3" |
Contact Details
User Comments
Sir/Madam, I want to purchase''My e-bike Sporty'', let me know the address of nearest dealer. I am from Chandrapur- 442 401 [Maharashtra]Thanks,+919423642363, e-mail; shyasin67@gmail.com.
I want to purchase this in delhi what to do
Hello this is shidram from bangalore. I want purchase Paradise Electro Auto scooter in bangalore.how can I purchase? & if any dealers. Send me dealers address and contact number.
is available in delhi if yes then location please
Dear Sir/Madam

We are interested in purchasing your product.
Please kindly send me your latest catalog. Also, inform me about the
Minimum Order Quantity, Delivery time or FOB, and payment terms
warranty.

Your early reply is highly appreciated.

Thank You !
Best Regards,
Valintine Murphy
(Purchasing Manager)
Email vallenciacompany1@gmail.com
Do you still manufacture and marketing the e-vehicles? If so how can I get the vehicle in Bengaluru (Karnataka)? Any dealer available in Bengaluru?
HIPOWER is the electric bicycle factory in China. Looking for dealers
ebike.sales2@hipowergroup.com
www.hipowergroup.com
HIPOWER New Energy Group Co., Ltd

How can I get this bike in Mumbai/ Kolkata? Do you people have any bike which has 40-45kmph speed & 100kms autonomy? Please let me know..
Pleas let me know the product particulars and dealer's address at dehli NCR and tel No.
my email id is yajwendras@yahoo.co.in
(M) 9810610962
How can I got this product
How can I got this product
this ebyke showroom west bengal are abialable.plese send me showroom address. And total on road price? My id suro.kkr@gmail.com
can you pls send me the price and dealar in bangalore and maintainance

i want to buy your product Sporty can u give me the delhi outlet address or any fone number in delhi...my fone number is 999-99-82256.. hitesh0502@yahoo.com
PARADISE ELECTRIC BIKE - SUNKKALP GROUP by srikanthganta
Hello Freinds,
This is a great Vocation that a new e bike has been arived to INDIAN MARKET which gives good milage of 100 Km/hr which is 100% guarented as per ARAI CERTIFICATE the company invites a good CUSTOMERS and finacially suppoted DEALERS IN ANDHRA PRADESH MARKET for any kind information you can contact our ZONAL MANAGER-SALES(SOUTH) Mr.K.RAVICHANDRAN
Ph;9440172897 the company aim is to give better support to
DEALERS who had tie up with us and good SERVICE to our beloved CUSTOMERS to know about company details you can go through official web-site www.myebike.in
we wish the above information will gives you good advantage
THANKING YOU

PARADISE ELECTRIC BIKE

please tell me the showroom price and dealers in bangalore.
pricing?
worth it ?
what is price & showroom adderas (delhi)plz sand my email id
can u please send me the price and dealer location in delhi?
please a.p dealers and price
We're interested in purchasing 2-3 nos. e-bikes for our business/ personal use. Please update the dealer details in Pune. If no dealer is present, kindly estimate the time frame of starting operations in Pune. Thanks & warm regards!
what is the price? my no:9985982882
I need one electric scooter and need the rate betwen Rs. 10,000 and Rs, 15, 0000. kindly explain all details.
price ?? mail me at junkiemonk@gmail.com
email me the price and waz the procedure to be it;s dealer in nepal
Can you please send me the price in Mumbai, Pune and Kolhapur?

My ID is abhay_a_bhave@yahoo.co.in

Thank You...
Please send me price and dealers in Chennai & Mumbai to sayieleela@gmail.com
we are intrsted in dealership for indore.
what is the price of this scooter and where are its showrroms in ahmedabad
We are largest lead acid battery manufacturer in China, and we are interested in doing business with you.Mail: cntnexport@gmail.com; website:www.cn-tn.com
price??? my email mitulbiswas@live.com
please send me showrroom and price info to my email id :freak@iamcrazy.in. please help if possible thank you
whats its pricing. Give it on 09444608396
Please let me know the product particulars and dealer's address at Chennai and tel No.
my email id is mbamani@md3.vsnl.net.in
tel : 9444080385
what is the price of this scooter and where are its showrroms